CDB Leasing has recently rolled out the Chinese mainland's first A330-300 passenger-to-freighter (P2F) aircraft and handed it over to Sichuan Airlines. The aircraft, whose eight-month-long conversion was designed by Elbe Flugzeugwerke (EFW), a joint venture between Airbus and ST Engineering, and undertaken by Shanghai Technologies Aerospace Company Limited (STARCO), was granted with the Validation of Supplemental Type Certificate (VSTC) and the Certificate of Airworthiness (COA) by the Civil Aviation Administration of China (CAAC) before rented out to Sichuan Airlines in international air cargo lines. Once put into use, the A330-300 P2F will supplement air cargo capacity for Sichuan Airlines and help the airline secure increasing shares of China's air cargo market.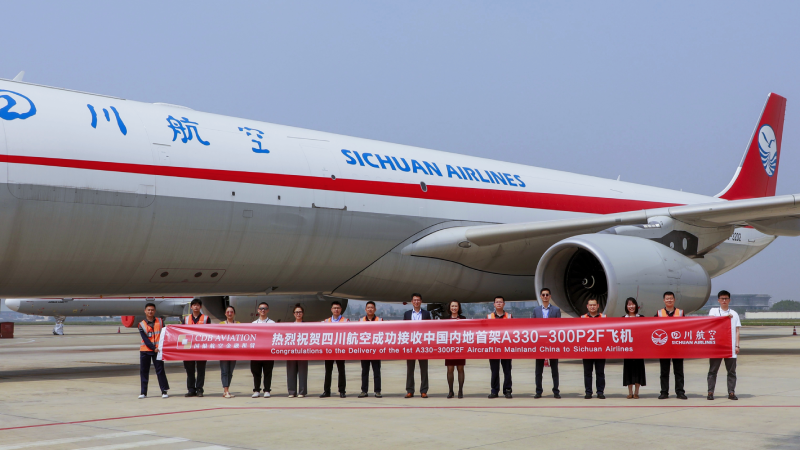 The A330-300 P2F, can carry a gross payload of up to 62 tons of weight to over 6,800 km, and is among the most popular types in the fast-growing medium-range wide-body freighter aircraft market. The aircraft is particularly suited for integrators and express carriers, resulting from its high volumetric payload capability with lower-density cargo. With the booming freighter market, particularly in cross-border e-commerce, the A330-300 P2F will contribute a significant portion of transport capacity to China's air cargo industry.
CDB Leasing, one of the earliest lessors to acquire A330 P2F aircraft in the world, has placed 14 A330 P2F conversion orders with EFW since it entered the cargo aircraft market in 2022. The deliver of the China's first A330-300 P2F aircraft is of great significance for Chinese airlines and shipping industry. CDB Leasing will continue to advance the delivery of A330-300 P2F to provide the Chinese air cargo market with more transport capacity.