In July 2023, CDB Leasing and CAR Inc., a leading car rental company in China, held a delivery ceremony in Harbin, Heilongjiang Province, marking another milestone in bilateral cooperation as it represents the largest delivery of new cars following the RMB10 billion worth of cooperation framework agreement signed by the two parties in September 2022.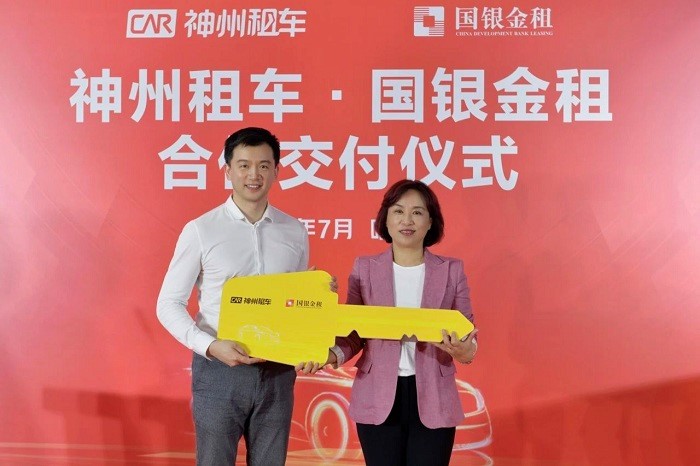 Yang Nan, CEO of CAR Inc. and Ma Hong, Chairman of CDB Leasing
Since the start of cooperation last year, CDB Leasing has delivered a total of 30,000 cars to CAR Inc., providing car rental services for residents in nearly 40 cities across the country. Close to 10,000 cars in almost 20 new and prevalent types, delivered this time, have contributed enormously transport capacity in peak periods, particularly the May Day holiday, the Dragon Boat Festival holiday and the summer vacation, against robust travel demand in the wake of the lifting of pandemic restrictions.
CDB Leasing, a pioneer in China's leasing industry and the first listed financial leasing company in China, has long responded to national policies, upheld the essence of leasing, stretched its unique strength featuring the combination of financing and leasing to facilitate the development of the real economy and production and operation of businesses, and stepped up efforts in inclusive finance to make the people's livelihood increasingly benefited from its leasing services.
The cooperation represents a concrete move by the two parties to respond to national calls to bolster domestic demand, boost automobile consumption and facilitate the development of the real economy. CDB Leasing will employ digital finance to make progress in risk management, and create an open, diversified and internet-based ecological cooperation system to inject new financial impetus to the car rental sector and help inclusive finance serve the real economy in terms of both quality and effectiveness.